DEDICATED INTERNET ACCESS (DIA)
A New Era in Internet Connectivity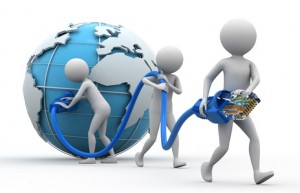 Supernet's Dedicated Internet Access solution connects your business to the Internet at high speed. Supernet offers a range of connectivity speeds – all with unparalleled performance and reliability. With Dedicated Internet Access, you benefit from dedicated connectivity to our infrastructure without the need of expensive traditional leased circuits.
Fast Connection, Unlimited Usage
Our connectivity is full duplex, so there are no limitations on the upstream bandwidth, delivering a truly corporate solution. Dedicated Internet Access has unrestricted usage so you benefit from reliable, uncontended, high bandwidth internet connectivity.
Reliable and Secure
Reliable and Secure
By leveraging massive recent improvements Fiber technology, Supernet can match, or in many cases, exceed the service levels offered by traditional lease circuits. With Fiber technology, the amount of switching equipment is greatly reduced, ensuring there is less reliance on the underlying infrastructure.  The RTTs (Round Trip Times) for data on our Fiber network are exceptional. The Supernet Network Operation Center ensures that the connectivity is maintained at the levels defined in the SLA.
Key Features:
Speed from 2Mbps to 1 Gbps
Full Duplex and always on connectivity
99.5% for network availability (packet success and latency SLAs also included)
24 x 7 x 365 proactive technical support
Quick installation and seamless set-up by dedicated installation engineer
No extra usage charges
IP address assignment/ Primary & secondary DNS
Contention 1:1
Please contact one of our dedicated account managers for further advice and information on +84 (8) 39104703 or by fax to +84 (8) 39104702 or by email to sale@supernet.vn.