CLOUD SOLUTIONS
Introduction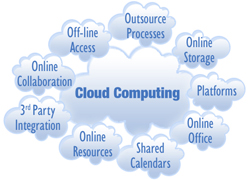 Creative Communication Cloud Solution (CCCS) is an Infrastructure-as-a-Service (IaaS) to virtualize IT or network resources on a cloud computing platform and perform multiple applications.
CCCS is designed to achieve your optimized business and operation objectives via IT virtualization / Cloud computing – cost effectiveness by reducing equipment investments and operating expenses; flexibility and scalability to meet changing demands.
Creative's CCCS is a perfect integration of:
State-of-the-art facilities and equipments
Carrier-grade network and connectivity
Features:
Load Balancing
Firewall
Cloud Bursting
Disaster Recovery
Live Migration
Managed Security Services
Cloud Backup
Cloud CCTV
BCP (Business Continuity Planning)
And many more….
Servers are maintained and managed by Creative Communication's 24x7x365
Please contact one of our dedicated account managers for further advice and information on +84 (8) 39104703 or by fax to +84 (8) 39104702 or by email to sales@supernet.vn